I have decided to participate in
Mama Kat's Writers Workshop
today, and the prompt I am tackling is: "Tell Us About Your Trip."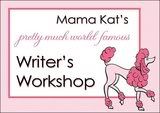 The trip I am going to tell you about is our trip to Disney World 3 years ago. Satan and Lucifer were 5 and 4 years old respectively. Ah - Disney World - what a wonderful magical place, right?? WRONG! We will NEVER EVER go back! It was the most miserable week of our lives! Take that Mickey!
The really funny thing about Disney World is that we saw very few happy faces there. We did see a lot of exasperated parents, screaming babies, and whining children (including our own). And the Enginerd and I looked at each other many times during our trip and asked how this organization keeps up the facade that this is the most wonderful place on earth??
My kids wanted to see Lizzie McGuire and the gang from High School Musical and Phil of the Future - well those characters really aren't represented at Disney. We did do the whole Princess picture thing, and my daughter enjoyed that (that was one bright spot in our day at the Magic Kingdom). 3 rides broke down while we were there - 2 of those rides broke down while we were on them, and Space Mountain broke down just before we were ready to get on it - they evacuated Space Mountain, and we didn't go back to try and ride later. My kids wanted to leave Magic Kingdom and go back to the hotel and swim at the pool. But the Enginerd and I were determined that we were going to have a good time at Disney DAMMIT!
We did Animal Kingdom and MGM while we were there, and we won't go back to either of those parks either. The kids tolerated Animal Kingdom pretty well. But I can take them to the Pittsburgh Zoo and they would be just as happy. Actually they LOVE the Pittsburgh Zoo, so they would probably be happier there than at Animal Kingdom.
In retrospect, we don't know if they were just too young or we tried to cram in too many activities... We have been to Orlando since this trip, but we didn't go back to Disney - my son NEVER wants to go back.
I know there are a lot of Disney lovers out there and that what I am saying is considered sacrilege to many. Am I the only one with enough testicular fortitude to admit that we hated Disney World??