Well I haven't participated in some time, but I just had to take a few minutes today to join in Mama Kat's Writers Workshop: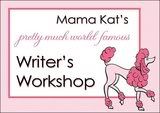 The prompt I have chosen to address is #3...
The most unbelievable blue eyes you've ever seen…
As soon I as I saw this prompt, I knew who I would write about - my beautiful daughter K-Lo. She is the only one in our family with blue eyes, and they are just beautiful!
Ok - so her eyes are closed here, but I LOVE this picture of her - I think it was the last time she was quiet!
I just love gazing into her beautiful eyes!